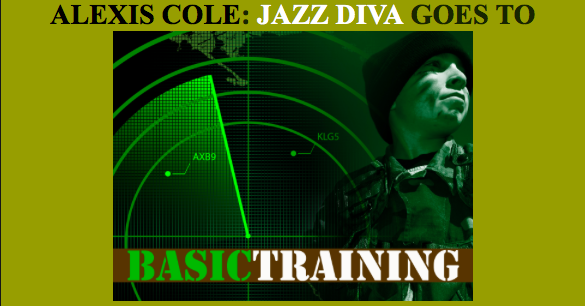 Blog Post 1 May 7, 2009 
My life, is a celebration, of decadence. 
In my favorite Indian restaurant, I sip roasted mate, chow down on carrot walnut cake, listen to sarangi And what better way to appreciate all of those mundane decadent glories than to take them suddenly away. 
"I drank of every vine, the last was like the first, I came across no wine so wonderful as Thirst."  –Edna St. Vincent Millay 
What better way to learn to cherish freedom, than to lay that freedom at the feet of another.  In this case, I've chosen a very unlikely Master.  The Army. 
I just came back from a pre-Basic Training.  I learned to march and salute, the difference between 'parade rest' and 'at ease,' how to navigate a topographical map, assess risk, and tell military time.  I think we're not kidding around now.  I think it's really coming.  I'm 
JOINING THE ARMY!!!! 
In 16 days, I'll kiss freedom goodbye and change into uniform, the instrument through which I'll transform myself yet again into another perhaps almost unrecognizable version of Alexis. 
I watched my older cousin, who shares my aquarian birthdate, go through the same metamorphoses.  At 14 she was a member of the young republicans and a preppy dresser, by 16 she was an anti-nazi skinhead living on the street.  That lasted on and off for a decade, and then she married a millionaire and now drives a sporty Mercedes.  I can't keep up with that girl.  When I asked modern Allison what she thought of punk nihilistic Allison, she told me that she just laughs. 
I used to feel that this changing in her and in myself represented a deficiency in character, but now that I've been through it a few times, I think that we are like water, having mass and substance, but translucent, magnifying and reflecting, nourishing and helping things grow.  Water takes many shapes, ice and vapor, a muddy delta or a hot spring, but at the base it's still the same.  I feel somehow outside of time, a cosmic traveler in the year 2009.  Supposedly all Aquarians feel that they are totally unique and damn it I'm no exception! 
I had fun today. I love new beginnings, learning the moves, thinking, interacting with people as diverse as New Yorkers are.  I'm kind of a leader, I'm good at getting people to do stuff.  I'm terrible at reading maps and not so hot at coordination. 
I've always had the feeling that I'm pretty good at giving 90% to everything I do.  I would like to know what it feels like to give the proverbial 110%.  Especially physically, I've never really gotten into the whole 'thrill' of working out, of pushing your body to its limit.  What a unique opportunity for growth. 
A few times during training, I started giggling and couldn't stop.  Frankly the whole thing is pretty darn comical.  I like being dorky, and not worrying about looking glamorous.  Now that I've adjusted to the shock of it, I'm Really excited about disconnecting myself with my phone and email for 10 weeks.  I mean, when in my life again, could I justify such an indulgence.  Were it not for professional development, I'm sure I couldn't. 
So I've got another two weeks to work on my push ups, record my Disney album, do a photo shoot, finish the Christmas CD, and prep Hilary, my fabulous new administrative assistant, to help the world get along without me for the coming season.  I'm thinking of this Basic Training as an opportunity, a retreat, an experiment, summer camp without the water skiing, a time of not thinking – just doing.  I'm sure I'll laugh at myself later, but I think it has the potential to be a very Zen kind of experience if I can manage to keep the right perspective.  I want to be joyful, and nothing helps that more than adversity in proper doses, so here's to Basic Training.  Whatever doesn't kill you makes you stronger. 
Glory Be. 
xo 
Alexis 
Blog Post 2 Happy Memorial Day! 
Dear Friends, 
What a full and interesting week of transition! 
Last Thursday night, I was at the office of Motema Records where Jana, the company's owner and I signed the contract for the release of my Christmas CD The Greatest Gift.  We didn't have time for a champagne toast, because we had to rush off to the Apollo Theater for the Jazz Foundation gala and show.  I stayed for awhile, but then left, as I was meeting some friends at a costume party. 
All dressed in crazy clothes we danced and drank.  I made friends with the cute bartender and drank for free until last call.  
Four hours later I was on the metro-north going up to Riverdale to do the photo shoot for the Romantic Disney Songs CD I just recorded for Venus Records. 
They did my hair and makeup, a kind of gothic look, then I put on my wedding dress, which I hadn't seen since I had it cleaned and preserved in 1998.  How I came to have a wedding dress is an irrelevant story involving nuns, a high school dance and an out of business gown shop.  The shoot went great, and then I tore downtown to meet Alan Silverman from Arf! to master the Christmas CD.  I thought I wouldn't have any opinions, as I'm not much of an audiophile, but sure enough, I did.  It was such a great learning experience, being able to hear things, suggest them and have Alan validate my opinions and make changes that I could hear that we both agreed were better. 
Hours later I arrived at Ganas, the commune in Staten Island I've been staying at since I got back from Tokyo a few months ago.  I stopped in a coffee shop, heard some nice singer-songwriter, had a bagel and hummus and some organic fair trade coffee.  I headed uphill to the houses to finish getting everything ready for my big day.   
Going to Basic Training was a pretty "Big day," but what I am referring to is the "Handing my Computer Over to Hilary Day" (and therefore, my "life").   
I was up until 6:00 a.m. organizing stuff for her, tying up loose ends, making sure she had all the necessary passwords to equip her to handle my life for the next three months. 
At noon on Saturday, I was running downhill to catch the 12:30 ferry, will all my crap on my shoulders, tired but feeling at peace, having gotten everything done.  I met Hilary at the Washington Square Hotel in the Village, where I'd gotten a room for the night to spend my last night of freedom in style. 
Over lunch we talked out all the details of my calendar and contacts and basically I explained my life and work.  She was so astute and attentive, by the end of the meeting, when I ceremoniously handed her my laptop, I felt totally carefree and liberated! 
I hopped on the subway to Times Square and hooked up with my friends.  I had an enormous Margarita at Dallas BBQ then tipsily my friend Don and I split off and went downtown for Miso Ramen.  Oishii! 
We left and went for pineapple juices at the rooftop garden bar at 230 Fifth Avenue.  All the "beautiful people" were there, so we soon tired of the scenery and headed back downtown. 
I slept in, enjoying the luxury of my fabulous room, and went down at noon to the jazz brunch in the hotel restaurant, The North Square.   
My friend Roz Coral was singing with master jazz accordionist Eddie Montero.  Lyricist Roger Schore who lives nearby had offered to take me out for my final meal.  I ate Eggs Benedict with salmon, apple smoked chicken sausage and of course a glass of champagne!  The set was awesome.  I love Roz's singing and Eddie's playing is mind boggling.  It was so swingin' and especially sweet because I knew it would be the last time I'd hear music for about three months. 
Roz invited me up to sing and I told everyone about leaving soon for Basic Training.  Then I remembered that I'd played at the North Square before going to Tokyo for the first time, three years ago.  I guess it's become my point of departure for journeys from the familiar to the foreign 
Just after I sang, my recruiter came to the restaurant and picked me up.  I felt that I was saying goodbye to New York City, to jazz, to autonomy, gastronomy, to life as I knew it, with all of its bliss and free will.   
Sgt. Donovan and I drove over the Brooklyn Bridge, crossing water, that ultimate personal symbol of journey to the other place.  He took me to Ft. Hamilton in Brooklyn, where we shook hands and said our goodbyes and good lucks.  I sat around for hours and was then transported with the rest of the "shippers" to the Hilton Garden Inn in Staten Island.  Amazingly I ended up not having a roommate and so I took a luxurious bath and went to sleep early feeling fabulous!  At 4:00 a.m., the wakeup call came and we all sleepwalked down to breakfast and boarded the bus.   
Back at Ft. Hamilton we processed from 5:30 until 11:00 a.m. when we took our Oath of Enlistment and signed our contracts.  We were soldiers.  Government property.  Running away was now AWOL and punishable by two years in prison! 
Our flight was at 4:30 p.m. and another shipper and I sued our meal checks at Figs the nice café in LaGuardia Airport.  I had lobster ravioli.  I savored every decadent bite.  We flew into St. Louis and went to the USO Lounge where we had free pizza (Yeah!) and I picked up some books and a sewing kit.   
At 8:30 p.m. we got on the bus and arrived three hours later at my new home, Ft. Leonard Wood. 
It was love at first orders.  The bus pulled up, breaking the silence of the night.  The new soldiers filed off, drill sergeant already screaming.  At the end of a twenty hour day, exhausted and ragged, we lined up in formation and hollered energetic "Yes, drill Sergeants."  We turned in our cell phones, got issued pajamas and bedding and marched to our new barracks.   
Game On. 
The first day, after about two hours of sleep, we began our processing with a trip to the medical office to take our blood.  We got issued our uniforms, the camouflage fatigues or ACU, a few pairs of boots, winter jacket, long johns and hats.  We had our vision and hearing tested and bought overpriced toiletries at the PX.  We scarfed down three squares at the "Chow Hall" and spent a lot of time hearing "sit down!", "shut up!" and "read your 'Smart Books'".   
The second day we got our dog tags and ID cards, took our yearbook photos (I ordered a photo package which will arrive in six weeks) and started processing our paperwork.  It turns out that I'm an E-4, a "specialist", the highest possible rank one can enter Basic Training with.  (I make about $100 more than if I had no rank!  Cool!) 
That night, about fifty new girls came to our barracks, only 48 hours after our arrival.  We already felt like we'd been here for years longer than the new girls.  
On the third day, we got our vaccinations and head a briefing on standard earplug use and Quartermaster Laundry service (only $6 a week).  I got to take a test to gauge my aptitude to learn a foreign language, it was a crazy test in which they taught you the rules of a made up language and then had you translate phrases and sentences into English.  It was fun and I felt smart because only a few people got asked to take the test because we scored high on the verbal section of the ASVAB (Armed Services Vocational Aptitude Battery).  The rest of the day was sit down and shut up time, occasionally punctuated by chow time, someone screaming at us, and a little formation and marching.   
Last night was the first full night's sleep I got, since the other night I had to do one hour of Fire Guard in the middle of the night, and today since they're so full of new people to process down hill, we've practically been given the day off, just hanging around the barracks! 
It looks like we'll be hanging around Reception Battalion until Tuesday, since it's a holiday weekend, but if we can hang out like this at the barracks all weekend it would be really nice! 
So, Happy Memorial Day!  Have a picnic and think of the people who sat around and let people poke them with stuff and put up with assholes screaming in their face making them do push-ups, only giving them three minutes to eat, not giving directions and then getting mad when they break the rules.  Think of all the crap soldiers had to put up with just to go die defending "freedom of the American way of life.  So, savor your BBQ and eat it as slowly as you want.  Oh, I'm jealous! 
So, this Memorial Day, first, pray for peace and an end to all war and all armies; then despite how you may feel about the decision makers and wars, or even about soldiers' complicity in those exploits, pray for the individuals who died and for their hardships –lament the bitter end which they met. 
But don't lament a bit for me.  I'm having a great time!  I'm making friends, enjoying the newness of this place, surrounded by the endless chatter of females. 
I'm finishing this letter at the desk at my barracks bay.  Here's a sample of the wisdom from the layers of graffiti… 
"Pain is weakness leaving the body." 
"Cover his stump before you hump." 
"Miami 305" 
"Raleigh 919" 
"Harrison, VA" 
"Hello Wisconsin!" 
"My thoughts become words 
My words become actions,  
My actions become habbits, 
My rabbits become me." 
And there in front of my face, when I sat down to finish this letter is a new piece of anonymous graffiti, which has really made my week. 
"Hi Cole" 
Could life get any better? 
xo, 
Alexis 
(Specialist Cole) 
Blog Post 3
Dear Friends, 
This week, another transition. 
I spent the holiday weekend at Reception Battalion basically eating, sleeping, sitting down and shutting up.  We did have a lot of down time in our barracks, which I spent reading Iris Murdoch's The Italian Girl, with a symphony of girlie chatter, arguments and laughter around me. www.amazon.com/Italian-Girl-Iris-Murdoch/dp/0140025596 
  Sunday, the first sergeant had a 'talk' with us, basically killing time between lunch and dinner chow.  At one point he asked if anyone could play the piano.  At first I didn't get up, but then the girls from my barracks were egging me on.  I wanted to represent so I decided to play New York State of Mind.  I was shaking, more nervous than I've ever been before a performance.  I managed to get through the song and even cracked a joke.  My girls gave me a standing ovation. 
Tuesday, the party was pretty much over.  After lunch at the Reception Battalion we got on a bus with our heavy duffle bags.  We had to hide our faces in our bags, crowded into the bus like I haven't seen since I was in India. When we got off the bus it was like a scene from a movie.  They made us hold our huge duffle bags up above our heads and keep them there.  Luckily I packed my boots in my other bag!  It was really difficult and people who couldn't do it were getting a lot of attention in the form of drill sergeants yelling in their face.  I had a lot of will, and thank God I'd been working out my arms prior to coming, so I pretty much kept it up.  Everyone who had a rank pin in their cap got their scalp all scratched up.   
I can't even remember what happened after that actually.  But now it's Saturday night and I've only slept about 4 hours a night and had no personal time.  Basically we've been on the run from 4am until 10pm every night, and doing an hour of guard duty every other night.   
For as much as it sucks, I lucked out.  I got the best 3 drill sergeants, a bottom bunk right across from the bathroom, a great bunk mate, important because your bunk mate is your "battle buddy".  All the girls who were annoying me in the Reception Battalion are not in my group, and all the girls in my platoon are great. 
They yell at us a lot, and yesterday I pretty much cried all day.  I couldn't cry because I have to maintain "military bearing", so I really experienced all the classic things, quavering lip, bulge in my throat… 
We were in these really boring classes and I was fighting not to fall asleep, so I kept thinking about my Mom's last words to me at the airport.  She said, "my money's on you."  I don't know why it makes me cry so much, I think I just really needed a reprise from all the hell.  I can stay tough, but when I think about putting my head on someone's shoulder and crying, it makes me get all soft.  
I also thought a lot about my friend Jeff, who was very fatherly to me.   
In my effort to stay awake, I tried to make a list of all the nice leisurely meals we shared and the places we went.  I had to stop thinking about it because it was just killing me.  I really needed some freakin' sleep. 
We went to the PX (http://en.wikipedia.org/wiki/Base_exchange )to buy supplies and I let down my guard, I guess being in such a civilian place like a drug store made me forget myself, but then one drill sergeant started telling the other about me, because the night before we had to write a paragraph about ourselves and anything they should know.  I wrote about being a musician and asked the drill sergeant not to blow his whistle in my ear.  He blows it in the hallway in the morning and it's deafening, but in my ear could really be permanently damaging.  In the PX the drill sergeant started asking me questions about where I was going to do my training and when I told him I'd be deploying directly to West Point he said "Oh, Private Cole's gonna have the good life."  And then I smiled and said "yes, drill sergeant."  He yelled at me for smiling and followed it with "Oh, and I'll be sure to blow that whistle in your face."  I got out to formation and just cried. 
The idea that 1) he didn't like me because I had a job he found to be elitist, and 2) that he could blow the whistle in my ear, plus 3) the sense of betrayal I felt because I was honest in my paragraph and he stabbed me in the back with the very thing I requested he not do, and 4) there was nothing I could do about that or anything else in my current environment:  it was overwhelming. 
My friend Lynch, a trumpet player about to enter the fife and drum corps in DC was there and maybe that's part of why I was so gay.  He asked me how it was going and I said I was having a hard day, but overall O.K.  He gave me a totally knowing look, in which I could see the suffering he'd also been going through (plus the deep scratches on his forehead from the hat pins).  He looked me in the eye with assurance and said "It's tough, but it'll all be worth it." 
Today I woke up from a beautiful dream about drums and gongs. I dreamt about my hippie friend Sanders from Koinonia, and his daughter sharing a ceremonial peace pipe, the smoke and the sounds of the drums and gongs circling heaven ward.  I sat with them and played ancient tones in a place of perfect calm. 
More boring classes today during which I again fought to stay awake, but in the middle they needed some entertainment, and called on me to sing.  I sang the National Anthem, and then they asked me to sing a jazz song, since I told them I sing jazz.  I really didn't want them to have me sing, only to use it as a way to cut me down (that's their M.O.) but they didn't make fun of me, and after I sang they even said I could sing the National Anthem IF I make it to graduation. When I chose my jazz song to sing, I knew it had to be something with a lyric appropriate to my feelings about the situation we're in here.   
The opening words came to me: 
"I took a trip on a train…" 
I tell you, of all my adventures, this is the weirdest by a long shot.  I wish I didn't have to be here, but I know when it's over I'll be glad I did it. 
I may actually get a chance to work on some things here too, my upper body strength for one, but also my absent mindedness and constant lateness. 
They keep saying "Basic training isn't difficult, just do what we tell you to do when we tell you to do it, and you'll be fine."  The problem is, the timeframe and amount of details to remember are too short and too many for my untrained civilian mind.  I have no intention of ever becoming a warrior, but to have a warrior mind would really help me.  Displaying more confidence in my countenance would be great too. 
Tonight is another great opportunity to sleep and dream.  I've been counting down the hours to lights out since 6am. Tomorrow is Pentecost and we have half a day "off" to go to church and clean the barracks.  Thank God! 
It's been a really tough week.  I wouldn't mind if you prayed for me.  I could really use the extra help.  Feel free to send me a letter, (but no packages please): 
PVT-SPC Alexis Cole 
A-1-48 Inf Regt  1ST Plt 
495 Iowa Ave, Unit 13 
Ft. Leonard Wood, MO  65473 
**On the back of the envelope, write "1ST" and under that "PLT" and draw a circle around what you've written.** 
"I took a trip on a train and I thought about You (Lord), 
I passed a shadowy lane (shadowy indeed), and I thought about You… 
I peeked through the crack and looked down the track, the one leading back to you,  
and what I did do, I thought about You." 
http://www.last.fm/music/Billie+Holiday/_/I+Thought+About+You?autostart  
Much Love, from Hell,  
xo, 
Alexis 
Blog Post 4
Dear Friends, 
After reflecting on my last letter, I realized that the question I didn't really answer was, "What's so hard about Basic Training?"   
I mean, everyone knows you have to do a lot of exercise, and get yelled at, but perhaps you, like me, thought there would be a point in the evening where that ended and life would be normal.   
I envisioned, for instance, that I would email at night from my phone, or type my letters or check the news.  I envisioned that I might read, stay up until I wanted, eat what I wanted, make calls or do laundry.   
We do get to do some of those things, but on an extremely limited basis.  Really, the thing that makes Basic Training so challenging is that it's relentless. 
To prove my point, I logged a 24 hour period.  I tried to go for a few days, but if you can imagine that just that tiny extra task put too much of a strain on me, you'd get the point. 
So, here's a day in the life of Specialist Cole, starting from about 48 hours ago: 
            *        *        * 
21:20    To bed 
22:50     Wake up for fireguard and did laundry 
24:15     Back to bed 
04:05     Wake up.  Before lights on, so with a flashlight I get ready for the day which               includes slicking my hair, making my bed, getting in uniform and cleaning 
04:30     Lights on 
04:40     Accountability formation in the platoon "war room" 
04:50     Outside for company accountability formation 
05:00     Physical training (P.T.) "puey suey" :(pushups & sit-ups), bars 
06:00     In chow formation 
06:20     Breakfast chow 
07:00     Gather equipment and transit to pool 
08:00     At pool for training exercise 
10:30     Back at barracks, formation 
10:40     Released for barracks maintenance 
12:10     Outside formation 
12:30     March to lunch 
12:45     Lunch chow 
13:08     Formation 
13:45     Weapons issued 
14:00     Outside formation, instruction on marching with weapons 
14:50     Pee break 
15:00     Instruction Basic Rifle Marksmanship 
16:00     Prepare weapons 
16:10     Weapon check 
16:20     Gas mask sanitizing brief 
16:30     Get masks and sanitize them 
16:50     Chow formation 
17:00     Dinner chow 
17:40     Outdoor formation and exercise 
17:50     "War room" P.T. and briefing 
18:10     Weapon dismantling cleaning and prep 
18:50     Outside accountability formation, P.T. and learning drills with weapon 
19:30     Platoon female meeting 
20:30     Shower, etc. got my clothes stolen from the bathroom 
21:00     Lights out 
21:05     Filled out laundry slip, stretched 
21:15     Fill canteens, stretch 
21:30     Make a list of personal goals 
21:45     Push ups 
21:55     Go to bed 
Formation is basically standing perfectly still in one of three positions of varying discomfort, usually in the hot sun.  P.T. often is extremely tortuous with long stints of holding your weapon out in front of you with your arms locked. 
*        *        * 
Sunday was nice.  I went to Mass with my friends and the Pentecost service was really inspiring, (minus the horribly out of tune piano.)  The focus of the sermon was the verse "The Spirit that God gives us is no cowardly spirit, but one that makes us strong, loving and wise."  I needed to hear that!  We spent the rest of Sunday cleaning and doing P.T. 
Monday we did an awesome team building obstacle course.  We had five different riddles to solve.  They involved moving soldiers and ammo from one side of an obstacle to the other without touching the ground.  We worked in teams of about fifteen.  It was physically and mentally challenging.  On the first station, I didn't have any ideas, so I just hung out, but on the second one, I had a good idea and was able to implement it.  I also faced some fear and feeling of inadequate physical strength by jumping over a huge wall (with help) and walking an improvised balance beam from one side of the obstacle to the other. 
Facing my fears is a favorite hobby of mine and the next day I got to reap the fruits of that.  Tuesday we went to the pool for Combat Water Training.  We learned how to make a floatation device from our ACU (uniform) pants, how to swim keeping your weapon above water, how to release your gear in an emergency, and most people's favorite, jumping blindfolded with your weapon from the high dive. 
After all my adventures cliff diving in the Caribbean (which was really scary) and swimming and scuba diving in the ocean, I felt unafraid.  It was so nice to be in my comfort zone with an activity. 
Wednesday we started First Aid training with a full day of classes.  We had a great and energetic teacher.  (I was still falling asleep though unfortunately.) 
Thursday, the second day of First Aid, we had to give each other an I.V.  I was really afraid when I heard we'd be doing that, more afraid of doing it that having it done to me.  In the class thought, when my partner started working on the dummy arm, I made a decision to be brave.  I did it with confidence on the dummy arm, even holding down the pressure on the vein instinctively, to keep it from bleeding out. 
I had a little trepidation going into the room where we had to perform it on our live "battle buddy", but my partner had a huge vein, and after he stuck me and I bled a lot and it hardly hurt, I felt pretty easy about it, and did a competent job. 
Today we went for a run, the second with our "Ability Groups".  I'm in the lowest of three groups, but considering my age and the lack of athleticism in my past, I feel pretty good just being in the middle of the pack of the lowest group.  Some of the troops are really struggling, and I'm sooo relieved that I worked out enough to keep up and not have a drill sergeant yelling at me that I don't have enough "heart" to keep us with the group.  
Now we're back at the first aid area with another vibrant and wonderful teacher and I learned what to do with an amputation (never put body parts on ice) or if someone's guts are hanging out.   
Monday, Wednesday and today we had our lunch picnic style, outside on the training sites.  The mood was positively gay.  Drill sergeants were still yelling and some people didn't get to finish because they were told to hurry up.  I was completely unperturbed. 
The weather has been beautiful, and today in formation, in my running suit, with the late spring/early summer chill giving me goose bumps; I though back a year to last May. Delighted by the spring thaw, I put my black and white miniskirt on and rode through the city on my bicycle in sheer joy, celebration of new life and it's manifestations in me. 
I think I've finally identified the choked up feeling which has been making me all weepy when I stare out into the blankness during formation.   
Gratitude. 
Mostly for family and friends.  Also for the bits and tatters of mundane beauty that make up the jumbled patchwork of my life.   
It's like I've died.  In removing myself from my life, I can see it from above:  a world in a tiny glass paperweight, animate with snow. 
This week I've been thinking a lot about my sister.  One of the girls in my bay just turned 18, only 2 years older than my sister.  We're both "headlights," troops in fluorescent vests who stand at the front of the company formation when we march.  She's kind of an air head in a way I totally identify with, but have been overcoming myself.  She has adult responsibilities here, but she's just a kid.  I'm enjoying helping her and watching her grow in this new experience we're sharing.  I feel so blessed with a loving family, a wonderful career, a passionate life.  In a way, I hardly know my sister, but I love her so much, and feeling her love and desire for a relationship with me chokes me up.  I imagine receiving mail from her, a "letter to the troops," encouragement to keep on going.   
This IS a battle simulation.  The enemy is YOU, your habits, customs and comforts.  Learning to live in a constant high stress situation is the active goal.   
Gratitude. 
For every meal, every hour of sleep, every moment of reprise looking out with my military stare into the great abyss.  Grateful for my past, a life of power, love and witness; my present an exploration into my shadows and contemplation of new ways of being in the world; my future, stability, opportunity, a following through of my hard won goals and priorities. 
It's almost the weekend again.  Highlights of next week include a chamber filled with tear gas, and a P.T. test! 
xo from Basic, 
Cole 
Blog Post 5
On the Range (12 Jun 09, Fort Leonard Wood) 
Brass plinks 
ammo swirls 
toward silhouettes unknowing 
Zero in 
on black spots far 
in the distance. 
In the foreground, 85 
lanes of pebbles 
a straight shot 
from our sights 
to the paper enemy. 
One eye open 
I steady 
aim fire. 
My gun's smoke 
rises lazily  
effortlessly 
into thin air. 
On the range 
the humans, 
practicing to be gods 
trample underfoot 
and padded knee 
eons of secrets 
kept  
by tiny pebbles. 
Glacial times 
mountainous ranges rose 
from sea to shining sea 
violent red 
split open 
lava, destruction 
creation 
at work. 
Modern times, 
humans, using brass and ammo 
create, destroy 
errupt 
blood on desert sand 
from pebbles 
from mountainous ranges 
from glacial times. 
*    *    * 
Souls float when 
guns smoke, 
fourteen pound 
trigger squeeze 
In my sight picture 
Life floats 
effortlessly 
into thin air. 
Dear Friends, 
This week was another whirlwind.  The weekend was very low key, most of the drill sergeants taking their first vacation days since we started.  Mass this Sunday was wholly uninspiring, and not even the piano made me laugh. 
Monday was a gas (ha ha) as we donned our chemical suits and masks and trained for a biological or chemical weapon assault.  We had to run a quarter mile around the track in M.O.P.P. 4 gear:  coat, pants, and rubber over boots, rubber gloves and gas mask.  It was so hot!  Everyone felt like they were suffocating in the mask. 
Then we had a lovely picnic lunch.  The drill sergeants made everyone drink extra milk so they could laugh when we made a bigger mess on ourselves when we came out of the C.S. chamber.   
We went into the gas chamber in groups of 15.  We started off with our masks on and did jumping jacks (side straddle hops) then they heated up two capsules of C.S. gas (which is like tear gas they use for riot control) and we opened our masks and cleared them (just like in SCUBA).  After about 30 seconds my neck was burning!  Then we had to take off our masks completely and say our company motto "Alpha Rock" about 5 times.  The air was toxic, I felt like I couldn't breathe.  I was coughing and my eyes were watering, I was nauseous.  Just when I thought I couldn't stand it another second, they opened the door and shoved us out in single file, hacking and drooling all over ourselves. 
Our suffering seemed to serve as a rite of passage.  After everyone got through our drill sergeant said with approval, "One more step closer to graduation!  Huh!"   
They gave us the rest of the day off from yelling and let us get to bed early, to prepare for our P.T. test on Tuesday morning. 
The first event was the push up.  I did 10 and was overcome with joy.  I did great on the sit ups and then I finished the 2 mile run with 3 minutes to spare.  150 points is passing, 300 is maxing out, and I scored 197 points.  Considering I'm not terribly athletic, I was really happy with my score.  It was one of the higher scores among the women in our platoon. 
   That night there was a tornado warning and the power went out.  We had to file into the hallways shoulder to shoulder and hang out until it passed, it was vaguely exciting. 
Wednesday we went to the shooting range for the first time.  First I helped Anton, a tiny female private from Thailand who has hair down to her ankles.  She did great, grouping on the first try.  Next was my turn and I also did great.  To group, you have to shoot 6 consecutive rounds within a 4 cm. circle. The next day we had to 'zero', getting 5 out of 6 rounds center mass on the target.  I qualified on my second magazine. 
Wednesday morning I had a little melt down because I was missing 2 out of 3 pairs of my spandex shorts (which go under the PT shorts).  I've had a lot of stuff stolen since arriving, and it just really gets to me, that people would do that.  To make matters worse, I banged the door of my locker in anger and bent the door.  I think my outburst freaked my roommates out.  Later in trying to explain it, I equaled it to controlled burning, like you would do to a field or forest to prevent an out of control blaze.  In being able to give an outlet to my frustration, sadness and anger, I can overcome it and be strong again. 
Like building muscles up, building soldiers is probably the same; work them to exhaustion, until they tear.  Let them heal, feed them, and they become stronger. 
We have one more week of Red phase.  Supposedly the next phases are easier.  In other good news, my drill sergeant authorized me to have my previously confiscated oregano oil, vitamin C and garlic and cayenne pills, so maybe the cold I'm getting won't really take hold.  Everyone is sick.  Morning formation sounds like a TB ward! 
The girls in my bay are still awesome, and the other bay of girls in my platoon is imploding with a case of type A personality.  I like most of those girls, but all of them are getting on my nerves.  I don't really need three 20 year old mothers telling me what to do all the time!  I just try not to react. 
So this week I've met challenges in the three hardest areas of Basic Training:  P.T., Marksmanship and Battle Buddies.  Drill sergeant said if you could do all those things, plus not do anything stupid, you would graduate. 
So I should be walking across the stage on July 30th and shiping back to New York the next day.  I have my first concert with my unit, the West Point Jazz Knights on August 8th . 
4 weeks down, 7 to go! 
Getting your letters means so much to me.  Please write.  Send me great poems and art on postcards.  I need more beauty in my life.  
With love, 
Alexis 
Blog Post 6 June 22, 2009 
Dear Friends, 
Yesterday was my one month anniversary of shipping out.  One month ago, I got on a plane from New York to St. Louis.  And again I reflect, what was I thinking!?  The answer is, I wasn't thinking.  I experienced a weird separation.  I just suspended my ideals and preferences.  Told myself I would just "do" now and "think" later.  Good thing I did that!  Or I don't think I would be here! 
Last year I heard a radio show about cognitive dissonance.  They did an experiment with college students where some students had to fulfill many requirements to take a class and others got in without having to do anything.  The class was intentionally boring and dry.  At the end of the class, the students were asked to evaluate the class.  The ones who had to work hard to get in said the class was interesting and informative.  The ones who got in easily said it was boring.  Even after being informed of the experiment, the first group still said the class was interesting, even if the people teaching intended it to be boring.  Perhaps it can be said that anything worth working for is consequently worth having. 
Yesterday, on transit to the shooting range, after a horrible sleep deprived night, I thought, "I could shoot someone, if I had to."  I had no reason to think that, it just popped into my head.  Whatever they're doing I guess it's working.  I'm sure when this is all over; it will be like a dream, another unusual adventure in my e-memoirs.   
This week we've been on the range every day.  It's been pretty hot.  I wasn't shooting too well, but yesterday, on the day it counted, I met the standard, so I'm in the clear.  I was trying for days to memorize the target sequence.  Finally I came up with the idea to make each target represent a note and I made little songs for each one.  I had it memorized ten minutes later! 
Also, this week, we did a peer evaluation, where we had to pick the five best and five worst soldiers in our platoon and say why.  About five people chose me in their top five, and said nice things.  Mostly that I was very cheerful and helpful.  That was nice to hear, and I certainly wasn't expecting it.   
Wednesday night I had my weekly sleep deficit breakdown.  I was trying to get 45 minutes of sleep before fireguard, and wasn't able to fall asleep.  I was stressed out because I'd not been getting enough sleep and didn't see the promise of any rest to come.  I laid there getting more and more frustrated and finally decided just to get up and go read in the latrine until it was time for my shift.  I cracked open Viktor E. Frankl's Man's Search for Meaning.  The book is about his psychological experience of the Holocaust.  The first time I was able to call home, I was in tears telling my mom how worn down I was, and she said, "People lived through the Holocaust, you can do this."  I'd never thought to compare the two, but upon reading the preface, it appears they produce some common psychological states.   
"Frankl's description of the mixed flow of emotion and apathy is arresting.  First to the rescue comes a cold detached curiosity concerning one's fate.  Hunger, humiliation, fear and deep anger at injustice are rendered tolerable by closely guarded images of beloved persons, by religion, by a grim sense of humor and even by glimpses of the healing beauties of nature - a tree or a sunset."  
This well describes my emotional state during the first and worst weeks.   
He goes on to say: 
"In the concentration camp... [W]hat alone remains is 'the last of human freedoms'-the ability to 'choose one's attitude in a given set of circumstances.'"-Gordon W. Allport 
Preface to Man's Search for Meaning 
On the way back from the range, we were packed into the moo-mobile, a semi truck with a container with a few windows cut out (it looks like a cattle car).  It was extremely hot and we were all sweating profusely.  The sun was illuminating the inside of the truck, its dirty windows diffusing the light casting a heavenly glow over all.  The distressed blue grey peeling paint of the walls made a perfect backdrop for our uniforms, each soldier nodding off into his interior world.  Angels were in that truck of puddled sweat.   
In situations of extreme stress a person can see with new eyes, beauty and meaning within the mundane.   
Friday the whole company somehow managed to qualify with their weapons, one of the major milestones of Basic Training.  When we got back to the barracks, we were called out to formation and a minor miracle occurred, we entered from Red Phase into White Phase.  The drill sergeant unfurled the phase banner and a white flag popped out and he threw the red one at us.  I know we're not home free by any stretch, but already the horror of Red Phase seems far behind. 
Our platoon drill sergeant does a lot of Good Dad/Bad Dad type routines to help manipulate us into being good soldiers who genuinely want to please him and gain his approval.  He really brings us into his confidence and makes us feel great.  Then he's really disappointed and angry.  It's a winning combination.  Whenever he's "smoking" us, I try to convince people that it's 'on the calendar', not something we did, but they're always running around trying to figure out how we can behave better to get back in his good graces.  I guess his technique works! 
Friday night was an answer to prayers as we got to have an early lights out to get some rest before our next PT test.  Saturday morning on the test, I did 25 push ups and 55 sit ups and ran 2 miles in 18:56!  I'm still not personally convinced that my push ups were 100% good form, but who am I to doubt the drill sergeants?  I have been practicing a lot! 
Later on Saturday, we had combative training which was a pretty brief and confusing overview of some ways to attain the dominant body position.  Learning choreographies have never been my strong suit! 
Today and last Sunday I went to the Episcopal service.  It was like going home.  Anywhere I've been in the world, India, Canada, Florida, Carolina, NYC and now Missouri; it's always the same liturgy.  The music was good and the preaching was too.  They served sweets afterwards.  I think next week we'll be allowed to eat them.  I could have eaten them today, but I thought it would taste better if I waited.  I got to ride on a bus to church with two other privates.  It was amazing to be out there on my own, roaming freely in the world.  And today, drill sergeant is letting us have our phones on for a few hours instead of the usual 20 minutes! 
A nice private at church told me his company got put back to Red Phase.  He said he thinks all companies do it.  I'm sure the giving and taking away of privileges is an important part of the 'training'.  I'll try not to expect anything and just be surprised when we get things.   
A lot of people reading my letters seem confused about why I'm here in the first place.  Sorry for the old news to those in the know:  
I took a job as the singer for The Jazz Knights Big Band at West Point in New York, and had to join the Army and go to Basic to actually be in the band.  "Soldiers First" they say.  As much as I hate being here, I still think it's an honorable policy to have everyone in the organization on the same page, having received common training and having suffered through the same rite.   
Last week we started calling cadence which has been fun.  Two of our companies' drill sergeants have great voices.  I feel like I'm back at the Holiness Church in Georgia when they lead the cadences.  Most of the chants are violent, or funny.  There's one about your wife/girlfriend's fidelity, and another "I used to date a beauty queen, now I date my M16."  I feel really weird yelling "Shoot 'em in the face" and stuff like that, but I just try to forget my soul and take a philosophical/psychedelic/comic view of humanity.  I know there's nothing funny about murder or war, but I do tend to file it under "The weird sh*t that humans do" category.   
I mentioned in an earlier letter that some of my stuff had been getting stolen, especially my PT uniforms.  Today I blew $200 to buy enough uniforms to send them to the laundry instead of washing them myself.  Kind of crazy, but a worthwhile luxury, and hey I'm not spending money on anything else this month!  After taxes, I'm earning about $40 a day being here.  When I got my pay statement, it reminded me, "it's just a job."  A very weird 24/7 job, but nonetheless just a job.  I also realized how, just like when I visit a foreign country, I try to engage the place by meeting locals and learning the language, I'm also trying to be really present to this experience, and not to blow off the potential lessons and breadth this will add to me as a person.  If you haven't figured it out by now, I love my collection of experiences.  I cherish them, dust them often, look at them in different light, and cling to them when I need to find bearing, when life is moving too quickly, as my life often does.  I get afraid that it'll blow right past me.  It's one of my greatest sources of grief.   
Like the lyric of Here's to Life: 
"I've had my share, I drank my fill, and even though I'm satisfied, I'm hungry still to see what lies just down that other road beyond the hill and do it all again." 
Cherish your life, every moment of joy and suffering.  It's all you've got.  If you promise me that, I'll promise to cherish my time here in Basic Training, grabbing all that living by the teeth, chewing and savoring every bite. 
Much Love, 
Alexis. 
Blog Post 7 June 29, 2009 
Dear Friends, 
My letter is going to be brief this week.  I'm getting really sick, so I want to maximize sleep and also there was a little snafu and the army accounting system sent my pay statement to Corporal Cole, so now the drill sergeant is making me memorize the Non-Commissioned Officers Creed by Sunday afternoon. 
This week probably had the worst day yet contained within it.  Wednesday we went to the "Confidence Course" which was like a challenging playground for grown ups.  There were about 25 "challenges" and before we started the drill sergeants gave a demo of how each one worked. 
I think around demo number 15 I started crying, just thinking about having to climb and jump and hang on to all those weird shaped structures built for someone taller and with much more coordination and upper body strength than I.  I was all out balling by the third one when I had to pull my weight over an inverted ladder and got stuck.  Unfortunately the first sergeant was nearby and came up there and threatened a new start on me immediately if I didn't just do it.  I couldn't do it (not wouldn't or didn't believe I could) if you believe me, and finally he sent two females up to help me over the rough spot after which I had to bring myself down the ladder face first. 
http://www.army.mil/-images/2009/06/18/41618/army.mil-41618-2009-06-18-130638.jpg 
The next horrible one was jumping from a log one foot in the air to one six feet in the air, presumably landing on your belly on the high log.  Seriously, I could not make myself jump.  I think fear can be helpful sometimes, like when someone is telling you to plant your face or boobs into a large stationary object.  Honestly, I couldn't make myself do it.  A puddle of tears and six tries later they told me I was a quitter and sent me over to guard weapons.  I know it was meant to shame me, but I was totally relieved, as the next challenge involved high monkey bars which moved. 
The worst part was having a platoon full of 19 year old punks telling me I was weak minded or weak hearted and that if I just believed I could do it I would be able to.   
I don't think I have a big ego, but the level of disrespect I get from the kids in my platoon is really fricken' disheartening.   
OK, when I was 19 I thought I was better than everyone too, so I guess it's natural, but it sure is annoying to be on the receiving end of so much bitchy attitude from people whose big accomplishment in life was making the high school football team or promotion to manager at Taco Bell.  ...There.  I got that out to you, so I don't have to mention it to them, because I'm sure it would only worsen the situation. 
Thursday was more fun, we did land navigation which involved 2 hours of hiking in the woods finding points.  I didn't get to participate, but just walking in the woods was a nice change of pace.  My platoon came in first so we were pretty charged up.   
All that complaining aside, I still think I ended up in the best possible platoon.  The girls in my bay are still cool, though Pvt. Allen (who I mentioned before, she just turned 18 and is kind of lost in the sauce) has had a run of bad luck, getting the flu, pink eye and a broken tooth (which got extracted and stitched up) all in one week.  Poor thing. 
My bunkmate is still coughing, though I think she's finally passed it on to me.  Luckily I had my mom send cough syrup for her, which I can now use. 
Guess what!  We have a really cool new female drill sergeant.  We're her first assignment, and she still behaves like a human being.  She didn't like drill sergeant school at all, and maybe having finished so soon ago is trying to be cool unlike her trainers probably were.  I hope her approach works, as it's much more pleasant than having people yell all the time. 
In the letter I got from my sponsor in the band, he said that in Basic, the days go by slow, but the weeks go by fast, and boy is that true.  I can't believe it's Sunday already.  I can't wait to get some sleep and I'm looking forward to going to the Episcopal service again tomorrow.   
I'm starting to be able to envision the light at the end of the tunnel, now that we've passed the halfway mark, and there's only 31 days left. 
Along the lines of my last letter, I've been trying to cultivate that sense of cherishing every day.  In the never-ending wait for chow the other day, I figured out that I've lived approximately 4,000 months and if I live to 99 I will live about 8,000 more. 
Only 8,000 more!  Life's too short not to embrace every hot day on the range in 20 lbs. of gear, every little interaction, good or bad, with other humans.  This is my weird cool life, I wanted to do something different, and here it is folks! Now for something completely different! 
On the horizon for the next week, we'll be training with bayonets and fighting with pugils, throwing hand grenades, and being fitted for our Class A uniforms which we'll don at graduation! 
http://en.wikipedia.org/wiki/Pugil_stick 
http://en.wikipedia.org/wiki/Bayonet 
http://images.google.com/imgres?imgurl=http://upload.wikimedia.org/wikipedia/commons/thumb/e/e4/US-NEW-CLASS-B-UNIFORM.png/510px-US-NEW-CLASS-B-UNIFORM.png&imgrefurl=http://en.wikipedia.org/wiki/Army_Service_Uniform&usg=__adk45VdzrylHxIi0KcwRBB5G6NA=&h=310&w=510&sz=135&hl=en&start=19&um=1&tbnid=qkkEYB8RUmjiUM:&tbnh=80&tbnw=131&prev=/images%3Fq%3DClass%2BA%2Buniform%2B2009%26hl%3Den%26client%3Dfirefox-a%26rls%3Dorg.mozilla:en-US:official%26hs%3D394%26sa%3DG%26um%3D1 
I just have to keep from being injured or getting too sick and I should be able to make it.  Injury Free BCT (Basic Combat Training). 
Keep the mail coming if you've got time, it really means a lot to me!   
Thanks so much to those who've written! 
Love you, 
Alexis. 
Blog Post 8 July 4, Ft. Leonard Wood, M.O. 
We went to a carnival.  They played the national anthem and an entire field stopped in its tracks and saluted.  Later my company sat together in the grass and watched fireworks.   
Fireworks... I'm back in Italy, July 2003, Portovenere, at the boat parade, an honored guest of the ex-wife of the restaurant owner in Milano who I met through a random ride on my way from Venice.  He'd once owned a restaurant in little Italy in NYC, so we were as good as blood.  They opened the restaurant just for me and the man cooked something up.  I remember fresh basil, buffalo mozzarella, ripe tomatoes.  "Here's the number of my ex-wife.  Go to Cinque Terra and call her.  I'm sure she'll want to meet you."  I go, I call, I meet her at a clubhouse on the water and we watch the parade, fireworks practically raining on us.  Closer than I've ever been to all that light.  I feel like I'm in a Fellini film.   
"What were you doing last 4th of July?" the drill sergeant asks the platoon as we sit there on the grass.  I keep my lips shut and think of how I could explain in non-offensive terms the festival scene in an Ontario campground with hundreds of half dressed freaks drumming and dancing around a fire, scarfing down a glut of cake and strawberries that appeared for my sweetheart's birthday.  Luckily, the drill sergeant didn't call on me and I had the prudence not to volunteer.   
What will these memories look like in a month, a year?  As an artist, my job is to accumulate experiences and like puzzle pieces and figure out how to put them together to make a comprehensible picture of the greater reality.   
July 4th, I had a fleeting thought, "At least this summer is better than last summer."  I shocked myself with this admission from my subconscious.  As much as I hate being here, the aimlessness and isolation of trying to restart my life in Brooklyn last summer was far worse.  I had a strange problem.  I had plenty of time and money and no place to be in particular.  I'd just come back from Japan and was going back again in 4 months, so I was trying hard to enjoy my time and make it count, but having too much of a good thing can be bad.   
One thing I like so much about life here is the lack of choice especially about how I spend my time.  I never have to worry that I'm wasting my life, as just being here is working towards something important.  I know the time will come again soon when I will have to be accountable for how I spend my precious 8,000 or so remaining months on earth. 
Another week, and well, I'm still here in this concrete container.  What's exciting today is that in exactly 4 weeks I'll be shipping back to NYC.   
I can from this vantage point completely comprehend the actual ending of this thing.   
Time is funny, before this week, Basic Training seemed interminable, and just a few days later, all I can see is the end.   
Life here has gotten much easier to cope with.  Its relative predictability is the cause.  During Red Phase we never knew what was happening from one hour to the next, let alone a day or week in advance.  Now our schedule is pretty regular:  PT in the morning, breakfast, some training event, lunch on the field, back to home base for a breakdown about the next day's training, mail, dinner, shower, bed. 
We did 3 especially high speed trainings this week, bayonet/pugils, grenades and Buddy Tactics Training.  I got to play with knives and blow stuff up!   
At the bayonet course we attacked figures made from tires, and ran a course where we attacked stuff and ran through some obstacles.  The only thing that was hard for me was jumping over a deep trench, but I did it.   
Later on, we (theoretically) applied the sets of movements we learned on the bayonet, to beat each other with large Q-tips: aka pugils. 
We sat around the mats separated by weight class.  The only empty spot was next to this fierce girl who last week came into my room to ask "Am I too bitchy?"  And then when I said "yes" she care-freely admitted "I just don't like you Cole." Thanks!  Thought that kind of stuff was on a need to know basis.   
So, I thought I'd be able to pick my partner for the match, but no, they had us pair up with the people we were next to, and lo and behold, no one would switch with me and fight her instead!   
Knowing what was coming for me, and seeing the other girls fighting in helmets and mouth guards, reminded me of the field hockey scene in the original "Freaky Friday" where a nice reasonable middle age woman finds herself suddenly plopped down in a field full of savage ass-kicking high school girls. 
My opponent finished me off quickly and gloated how that "made her week."  Whatever.  Ten minutes later I got to see her get her ass kicked by my roommate.  She threw in the towel, quitting outright just from exhaustion.   
Tuesday we got fitted for our Class A "Army Green" uniforms.  Not surprisingly they aren't very becoming on me.  Seeing the girls in those uniforms as we went down the line trying things on really made graduation seem real.  Those uniforms made us look so mature and professional.  An outer manifestation of the "military grown-ups" we will be by the time we're allowed to put them on.  Clothes do sometimes make the girl. 
Wednesday we went on our first real road march.  It was 8 kilometers.  It was really fast paced, and some of my vertically challenged friends were barely hanging on.  I was having a hard time, but didn't ever fall behind.  Luckily my boots fit great, even the way I have my equipment adjusted makes it pretty comfortable for something pretty inherently uncomfortable, so I felt lucky.   
We marched out to our training site which was the grenade range.  That was one of the training events I'd felt some trepidation about, but I soon realized it was nothing to be afraid of.  We threw about 10 practice grenades before doing the real ones, and it was with a range cadre right next to us, so it was very comfortable.  I got the noodle arm, a special mark on my helmet to let them know I'm a bad thrower.  The sergeant said if I was trying to get my grenade in the window of a house, that I made a perfect shot.   
One nice thing I'm learning about Basic Training is that there isn't much that anyone couldn't do.  Over and over, the drill sergeants say, "Basic Training is Easy." And in a sense they're right.  The hard part is waking up every morning and enduring for another day whatever it is they want you to endure.  You don't even have to do great at whatever they're teaching you.  You just have to really try, listen to instructions and not have an attitude.  I've been focusing on this idea to help me get through this week.  90% of success is showing up.   
Thursday we went to a shooting range that was somewhat realistic.  You moved for cover behind old burned out cars and a wall and shot at targets with life-size photos of Iraqis on them. 
This morning we had our PT test and I did 27 really competent push ups, 66 sit ups and ran my 2 mile in 18:33.  That gave me about an 85% overall score!  I was really happy!  I widened my stance on the push ups and they've really been going well.  I've also incorporated in some breathing, instead of locking my breath! 
This afternoon we did another round of Modern Army Combatives.  I had fun wrestling around with my sweet Battle Buddy, and then actually didn't hate getting my ass whooped by my roommate.  I even pulled out a few moves (that didn't get me anywhere but did show me that I'd learned something from the training.) 
Monday we leave for four fabulous fun-filled days and three sleepless nights in the field.  I've heard all kinds of awful things about it, but at least I like camping and don't mind bugs and darkness too much.  I think the hardest part will be hauling things around.  We are the "duty platoon" this week, which means that we set up and tear down stuff and do whatever needs to be done for the company.  Drill Sergeant said it was going to be a lot of work on the FTX (field training exercise).  Oh well.  "Suck it up" as they say.  At least I'm feeling much better.  Last Sunday, I went to the hospital and got some antibiotics which I finished today.  I banged my knee in the combatives class, but I think it'll be okay tomorrow.   
I don't know what to do with myself; it's like a whole weekend off!  Sleep.  I'll sleep and dream that this is all behind me, and I'm drinking ice tea is a long white dress on an old wooden porch.  My friend Charity said her dream is a picnic on a field with a bottle of old wine.  She's in a tank top and a long skirt with her hair falling all around.  Such visions have the power to move me to tears frequently throughout the day.   
Before coming I read the account of a man who spent 20 years in a secret underground prison.  The cell he was in wasn't even large enough to stand up in.  He said one of the hardest things to endure is the memory of the mundane:  a cup of coffee, a newspaper, the tiny bits of comfort that make life on earth so pleasant. 
As I walked from church this morning I noticed people in cars, walking dogs, shopping.  It was so romantic.  It's lovely just to be alive on earth.  It's lovely to be alive on earth.  It's lovely just to be alive. 
Much love, 
Cole 
Blog Post 9 July 13, 2009 
Standing in front of a floor length oval mirror I danced and admired myself in a gorgeous coral colored crepe gown with white sequined appliqués, as a flamenco guitarist played his fierce lament. 
I awoke from this lovely dream of vibrant sensuality back to my drab reality of army green blankets and my oversized pajama camo uniform.  It's hard to remember that I'm glamorous in these clothes, with my hair pulled back and no make-up.  For some reason they don't even let you tweeze your eyebrows.  My hands are stained from the recycled shredded tires they use in the PT "pit" where we work out.  I'm dry and oily and generally de-feminized.  I haven't even dropped an egg since arriving here.  
Months ago, in the military bus on the way from the hotel to Ft. Hamilton in Brooklyn, a guy offered me his seat and I declined.  When the Italian driver got on the bus and saw me standing, he admonished the guys "You gonna let a lady stand!?"  One of the guys replied "she's a soldier now, sir!"  
And so I am. 
We had our first field training exercise this week.  I was really intimidated because I'd heard there would be a big sleep deprivation element.  It actually turned out to be an okay time.  The worst part was setting up and breaking down the huge Army tents.  The best parts were having plenty of time to eat for a change, the candy and coffee in the MRE's (Meals Ready to Eat), and sleeping in the woods in a shared tent with Stephanie my awesome battle buddy. 
The first night we awoke to machine gun fire and three whistle blasts, the signal for a gas attack.  We donned our gas masks and took up our fighting positions.   
No one came to our area and eventually we heard "Go to sleep Alpha" (our company name).  We went back to our tent and just as I was falling asleep I heard the machine gun fire again.  We grudgingly resumed our fighting positions belly down in the dirt; rifles pointed out, and waited.  We heard some far away action and eventually another "Go to sleep Alpha."  This time they let us sleep until the morning. 
During the days we had classes in first aid, searching an enemy suspect, auto searching, dealing with a chemical attack and working a military radio.  At night we did a tactical land navigation course and were intercepted by a group of strange acting foreigners.  We were about to drop and search them when our drill sergeant made us realize that they were just waiting for a bus and asking for money. 
Let music swell the breeze,  
And ring from all the trees,  
Sweet freedom's song.  
Let mortal tongues awake;  
Let all that breathe partake;  
Let rocks their silence break,  
the sound prolong. 
-My Country Tis of Thee 
The next night we did a 10 kilometer road march.  It started out peacefully at a very relaxed pace.  As we set out I glimpsed the full orange moon rising through the trees.  The air was pungent with honeysuckle.   
I kept looking over to my right to catch sight of the moon.  Finally we came to a clearing and I stared at the moon for about half a minute, dreaming of drumming at the Starwood festival and dancing around the fire.  Remembering the rising moon that I so often saw as a young girl at summer camp over the lake.  It was a peaceful walk. 
I can't pinpoint the moment that the march went from a peaceful walk to a hip straining shin splintering race walk pace.  But by the time we got to the halfway point and took a break I was drenched with sweat.  We resumed the pace and people were falling out left and right.  When I started falling behind I imagined being hooked to the person in front of me through my nose. 
As with so many difficult challenges, when it was over, I didn't think much of it, but I know it was hard. 
The last day we packed up the camp and went to the range.  We shot moving targets for the first time and also shot the M16 on burst, which is 3 shots for every trigger pull.  It was pretty intense.  We hung around until dark and then did a night fire with infrared scopes attached to our helmets.  They played some heavy metal over the PA system at the range as we shot.  Every 5th bullet was a tracer, so we could see them hitting (or missing) the target.  It was pretty awesome. 
We got back to the barracks around 1:00am and had a quick shower (the first in 4 days).  It was glorious. 
The next day I had an interview with a local radio show.  They stumbled upon my blog and are doing a feature about me. 
Last week, First Sergeant called me out in front of the whole company and said he saw my blog, and why did I say all those horrible things, like a drill sergeant slapped a private?  You know that's a lie! 
I started to cry a little because I thought he'd misinterpreted something I'd said.  He said "Why you crying Cole?"  
"I'd never want my writing to hurt anyone.  I'm so sorry if it's caused any problems." 
"Naw, I'm just kidding Cole.  You an upstanding private, and a good writer.  The commander read it and she wants to talk to you bout it.  Keep up the good work Cole." 
I was so relieved. 
Before the interview, I was briefed for about an hour about security and how to conduct myself as a military service person with the media.  It was fun to feel special and the staff at the public relations office were fun.  It was a nice break. 
http://www.army.mil/factfiles/equipment/individual/m203.html 
http://en.wikipedia.org/wiki/M18A1_Claymore_Antipersonnel_Mine 
Saturday we shot a grenade launcher and a rocket launcher and saw a claymore go off.  We've also been learning about machine guns, and got to shoot one on our field training exercise.   
Today I'm at the Tabernacle Baptist Church on the "Day Away" program.  They bus us here and we get to play basketball and go bowling at their 1950's bowling alley and eat candy and ice cream.  For me the highlights were getting to play the piano and listening to a great bluegrass band during dinner.  And eating a Twix bar (it was so yummy!) 
Tomorrow is the endurance course.  I'm very nervous about it since some of the tasks are high monkey bars, and climbing 25 feet up a rope.  Even with all my new muscle mass, I still don't trust my upper body to carry my weight, nor do I trust my coordination.  I talked to my drill sergeant and asked him if I could practice the monkey bars on the playground.  He laughed and promised me I'd be okay.  I'm going to trust him and try not to worry.   
It's almost over.  So if you've been waiting to write, be sure to send it by July 25th! 
Love you, 
Alexis 
Blog Post 10 July 20, 2009 
Dear Friends, 
This week I earned my freakin' pay!  In an earlier letter I mentioned that I thought I could kill someone if I had to.  Now I know I could! 
Monday the drill sergeant fired the current platoon guide and decided to make me PG!  What was he thinking!? 
It was the day of the personal endurance obstacle course which I was dreading.  The course turned out not to be too bad, and I even completed half the monkey bars, which surprised me.  I couldn't climb the rope at all though, but they had a contingency plan for people who couldn't do it.   
All platoon guides get a lot of flack from the group, as they are the person responsible for keeping everyone in line, up to speed, quiet.  One of the main problems is that you have to know a lot of drill and ceremony stuff and execute it properly pretty much from the get go.  The difference between seeing someone do it and doing it is just like watching someone drive somewhere and getting there yourself.  Everyone thinks they know what they're doing, and when you screw up, they just lose all respect for you.  Additionally, the plans and instructions are constantly changing and it's impossible to be totally in the know about all the details since often not even the drill sergeants know, so it's difficult to speak with authority and surety.   
I came into the position with a lot of humility and a little word to the group asking them to help me to do a good job, and respectfully filling me in when I jacked something up.  I told them I was open to suggestions and ideas and that I would listen and then decide what I wanted to do.   
I wouldn't say that I was timid at first, I was just leading them as I would a band, or other group of responsible adults, speaking to them respectfully, not raising my voice, expecting people to respect the position I was given and execute my instructions.  Unfortunately, I was very disappointed.  Even more disheartening was the unforgiving distain with which about half the platoon addressed me.   
People I'd never even spoken to before were viciously rude and derisive.  I tried to maintain my professionalism and continued through the next day.   
Tuesday night I had fireguard and did all the cleaning that people on the earlier shifts should have done.  All that aggression I was receiving combined with sleep deprivation helped to get me in an extremely no nonsense mood. 
When the platoon gathered in the morning to recite our Soldier's Creed and Army Values I addressed the group pointing out specific places where we were behaving in a manner counter to the very words which we spoke each day.  I started sounding off with what I might call "violent authority", an "I'm driving this bus" mentality.  I just didn't care.  I had a job to do, I hated my platoon and life, and I could give a crap what any of them thought about me or my instructions.  There were a few times when marching to chow I yelled out the cadences so loud that it hurt my voice.  I was using that time to vent my aggression.  If I have one asset as a leader in this environment, it's my loud authoritative voice.  I also have a good "war face" which when fueled by rage and nihilism is probably pretty convincing since I truly feel that I could kill from that place.  It's probably good that I neither own a gun nor possess the strength to hurt anyone with my hands.   
http://media.ebaumsworld.com/picture/666vengeance666/vampfly.jpg 
So, this gentle caterpillar metamorphosed into a fierce blood thirsty butterfly. 
http://girlieview.files.wordpress.com/2009/06/bunny-mzacha1.jpg 
Wednesday while I was marching the platoon to breakfast I saw two bunnies hippity hopping side by side and forgot myself for a moment and made a gesture of delight. (I am sooo tough!)  Unfortunately Drill Sergeant was behind me and saw and said "I think we need some new leadership".  Mostly, I was relieved but I somehow didn't feel that I'd had the opportunity to make any progress in the position. 
During breakfast I stopped by the drill sergeant's table and said that I felt that the platoon hadn't had good leadership in a while and that we were not doing too well and perhaps it was time to let a strong leader take the position. 
He got upset with me, "Cole, what are you saying about yourself by saying that!?  Are you telling me that you're not capable of leading these soldiers?  I'm not letting you out of the position until you've demonstrated good leadership."  End of conversation.  I was actually happy that I might have the opportunity to prove myself.  After breakfast I formed up the platoon and addressed them with this odd speech.  "Drill Sergeant says I'm going to be PG until I can show that I'm a good leader.  So I would appreciate it if everyone would cooperate with me and make it look like we're operating as a team.  Believe me, I don't want to be PG, but I'm stuck with it, and even if you don't respect me, you have to respect the position."  There were grins and smiles and a resounding "Yes Platoon Guide."   
Suddenly I had a very cooperative and enthusiastic group.  We continued on like that through training and into the evening.   
Maybe it was because they'd pretended and therefore practiced a different mentality, or maybe it was because they saw other people pretending to respect me and therefore somehow perceived that my status was raised, but I didn't get any more of that scathing back talk the rest of the day and overall, everyone was pretty on point with my instructions. 
Later that day at dinner formation Drill Sergeant looked me in the eyes and said "Good job Cole.  I think you learned something about leadership."  He tore my PG rank stripes from my shoulder and asked me "Cole, who should be our next platoon guide?"  I responded with "Cope" the name of our strongest and possibly most popular comrade.  "Platoon," he said, "who do you want for PG?" "Cope." They replied as a group. 
I felt so satisfied.  I'd gotten an honorable discharge, and nominated a very deserving person for the position.  I told the drill sergeant "It sucked, but it was cool.  Like the gas chamber."  And it's true.  If I came here looking for signs of transformation, it was probably nowhere more in evidence than this week.  I was forced to be totally informed and on the ball.  I noticed that I was much less drowsy than usual.  I felt a heightened sense of awareness because everyone was counting on me and I felt responsible.  They say you really grow up when you have kids, and I guess it's for the same reasons. 
It was a great growth experience, but I'm sooo glad it's over!  I've been feeling so light and happy since then!  After being dismissed, quite a few people said positive, supportive things, and apologized for the behavior of the platoon.  I feel like I'm getting more respect now than I did before I was PG.  Also, the platoon is behaving pretty much the same way to Cope, so, I don't feel too bad.  
Our training this week was pretty high speed.  We're getting ready for our third field training exercise.   
Tuesday we did a convoy fire where we got on a truck, shot from the truck, got off and shot and got back on in teams covering each other.  It was fun driving fast through the woods.  I tried to imagine I was back in the Amazon in Ecuador.  Then some stuff exploded, we got off and shot some $!*t up! 
Wednesday we had a class on "sex signals".  It was great!  They had two professional actors presenting, and through scenes, improvisation and discussion, tried to impart the idea of date rape prevention.  Much in the same way friends take their friends keys away if they've been drinking.  Later that day we did Urban Operations.  We went to a site with some concrete block buildings and learned how to cordon off an area, how to clear a house, how to interact with civilians, and how to move tactically in an urban setting.   
Thursday we had our final PT test and I did my 2 mile run in 18 minutes!  We had post detail, and I was lucky enough to get assigned to the Warrior Tower, where we would be training on Friday.  I was really glad to get to see another group do it.    
It was a super chilly day, a little weed whacking and picking up rocks, a nice long lunch.  It's been beautiful the last few days.  Cool like springtime.  It was nice to be outside all day. 
Friday we did the Warrior Tower, which was basically rappelling down a 35 foot wall.  Everyone kept expecting me to be scared because I had trouble at the obstacle course, but I wasn't afraid to step over the edge.  I did however squeal and giggle all the way down every time I took a little jump downwards. 
http://upload.wikimedia.org/wikipedia/commons/9/9a/Machine_gun_M2_1.jpg 
Today we shot machine guns including the infamous 50 caliber.  I don't like machine guns, or any guns for that matter, but it was pretty bad ass sitting behind the 50 cal. shooting up dirt mounds. 
Next week we're going to the field and Drill Sergeant made a Wanted poster with my face.  Apparently I'm an insurgent.  I bet there'll be plenty of paint balls and CS grenades coming my way! 
Monday morning I have a recording session with the Ft. Leonard Wood Army Band to record the 48th Infantry Regimental Song to help future trainees learn the song.  I'm excited! 
After our field training, Basic Training is pretty much over.  I don't cry much anymore.  I'm actually feeling pretty happy.  I put the medals on my class A uniform which I'll be wearing to graduation.  It looks very professional.  I'm no longer day dreaming longingly about ice tea on a porch, though I've still been dreaming a lot about clothes and dresses.   
http://www.umdf.org/atf/cf/%7B28038C4C-02EE-4AD0-9DB5-D23E9D9F4D45%7D/PHOTO%20-%20Ice%20Cream.jpg 
The quality of my life here has improved greatly and I even got to eat ice cream tonight after a much enjoyed main course of what they call yaki soba, (can you believe that!) but which is really just spaghetti with greasy ground beef. 
http://en.wikipedia.org/wiki/Yakisoba 
Life sucks but it's cool. 
Xo, 
Alexis 
Blog Post 11
 
"…in that sleep of death what dreams may come When we have shuffled off this mortal coil, must give us pause."  
I may not have exactly shuffled off the Mortal Coil, but Hamlet's words did come to me as I pulled out of Ft. Leonard Wood at 3am on July 31st.  That which once seemed outrageously optimistic did eventually come to pass.  My parents came in their car, drove onto Ft. Leonard Wood, pulled up to the barracks, and I walked out of the CQ door (Drill Sergeant smiling at me) with my duffle bags and got into their car and we just…drove… away.   
The idea that one could, simply drive away, from that prison was incompatible with the reality which we lived under.  There was literally no place to hide.  On Sundays I would often clean the shower for half the day just to be alone and to be able to chant and sing in the nice tiled acoustics. This was my big reprieve, cleaning the shower!   I was watched, harassed and literally never left alone from May 18th until July 31st.  The fact that it did eventually end, really did come as a shock to my psyche.    
On the plane home, I was finishing Viktor E. Frankl's Man's Search for Meaning.  Ironically, he was talking about the process of reintegration, and the psychological observations of himself and his comrades during the time of release.   
…it would be quite wrong to think that we went mad with joy.  What, then, did happen? 
    With tired steps we prisoners dragged ourselves to the camp gates.  Timidly we looked around and glanced at each other questioningly.  Then we ventured a few steps out of camp.  This time no orders were shouted at us, nor was there any need to duck quickly to avoid a blow or kick.  Oh no!  This time the guards offered us cigarettes! …We walked slowly along the road leading from the camp…we wanted to see the camp's surroundings for the first time with the eyes of free men.  " Freedom"  - we repeated to ourselves, and yet we could not grasp it.  We had said this word so often during all the years we dreamed about it, that it had lost its meaning.  Its reality did not penetrate into our consciousness; we could not grasp the fact that freedom was ours. 
   We came to meadows full of flowers. We saw and realized that they were there, but we had no feelings about them.  The first spark of joy came when we saw a rooster with a tail of multicolored feathers.  But it remained only a spark; we did not yet belong to this world. 
   In the evening when we all met again in our hut, one said secretly to the other, " Tell me, were you pleased today?"  
    And the other replied, feeling ashamed as he did not know that we all felt similarly,  "Truthfully, no!"… 
     At that moment there was very little I knew of myself or of the world – I had but one sentence in mind – always the same: "I called to the Lord from my narrow prison and He answered me in the freedom of space." 
The last few days of Basic were pretty uneventful, the highlight was the Nighttime Infiltration course, known as NIC at Night, a live fire exercise during which we low crawled through a sand pit carrying our weapon under live fire shot above our heads, with stuff exploding all around us. (https://www.youtube.com/watch?v=f-14nChETAc  this video makes Basic look Way too romantic, don't be fooled!)  It was one of those things I was pretty apprehensive of, but which turned out to be, no big deal, really.  I was most afraid of accidentally crawling into a pit where explosives were about to go off, and of the high decibels I might be exposed to.  It wasn't too loud and the route was clear, so no problems veering off into an explosives pit.   
At the end of the exercise we all had to lay with our heads on a log, basically spooning.  Unfortunately an officer heard a private make some pretty harmless remark about this being as close to a woman as he'd gotten in months, and when we got back to camp we got reamed for it.  Luckily the person 'fessed up and so we didn't all get punished, but I felt bad, because roughly the same idea passed through my mind, I just had the sense not to say anything.   
During the last two weeks, it seemed like everyone was talking about sex.  I guess people were getting excited about seeing their wives and lovers on visitors day, and the idea that we'd all gone 10 weeks forsaking what so many of us prize as an essential part of life, was remarkable.  It was actually the first time I'd heard sexual jokes, or people chatting about sex in mixed company.  
      I've heard rumors that Basic is a real 'f@#% fest.' I know I'm a little naïve, but I really felt the people in my Company behaved professionally.  Furthermore, where would two lovers sneak off to, and Why would you want to "do" someone in that horrible uniform!  Not to mention risk having to start over again.  I was really glad for the professionalism of the drill sergeants and the privates.  Once in a while a private would say something off color, and another private would admonish him, and in that way, everything was kept to a certain standard of conduct.    
         The other reason that people were probably getting horny was that we could see the light at the end of the tunnel, and people were starting to relax.  I feel it was important not to relax too much, because nothing really had changed, and they kept reminding us how privates do stupid things in the final days which get them restarted back to 'Week 1 Day 1.  Honestly I was grumpier and less tolerant in those final days, because I knew I wasn't going to have to be around any of them after a mere few days.   I had a minor parting roe with the girl I mentioned in an earlier blog who said 'I just don't like you.'  I felt bad for taking the low road, my final comment of our argument on the eve of my parting being a sarcastic 'Have fun at AIT' just made me feel like a scumbag for a few days, and inhibited the enjoyment of my freedom, knowing that I really was privileged, and didn't behave graciously.   
         Anyway, how 'bout them apples? La-dee da-dee everybody had to go to AIT or Advanced Individual Training for 5 weeks to 2 years, and I got to come home!  Am I the luckiest girl to ever walk the earth or what?   
        And speaking of coming home…I've always had good housing karma, and this was no exception.  My mom and I were walking down the street after looking at a slum of an apartment being offered for $1300 with an extremely vague view of the Indian Point Nuclear Plant on the Hudson out of the hall window, when we ran into Chris Marra, the coordinator of the artist housing program in Peekskill.  I'd met him when I came for a tour of the available artist housing in mid-May before I left.  He said he had something new that opened up just yesterday, right on Division St, and had a few minutes to take us to look at it.  It was a fabulous duplex on Peekskill's main drag, the 3rd and 4th floor of a historical building with exposed brick walls, wood floors and Dutch windows.  I took it! 
      My landlord is redoing the wood floors in that very apartment this week, they're going to be so beautiful.  So I've had to get out and I'm staying with my friend on the beach.  Right now I'm looking out the bay windows of a fabulous restaurant, drinking Long Island ice teas and eating a perfectly refreshing Cesar Salad.   
       My assignment with the West Point Jazz Knights couldn't be more perfect.  We've done 3 gigs now, and they've all been great.  The band is totally excited to have me, and I'm excited to learn their current repertoire and also to work with the innovative arrangers within the band to incorporate new repertoire.  It turns out the band's drummer is studying with Ian Froman, my first call drummer, and the assistant arranger is studying the leader of my favorite with big band in NYC.  So musically we are right in sync.   
       We played the 'Ring Hop' earlier in the week, and I sang two dozen pop songs including JeLo's 'Let's Get Loud' which practically brought the house down!   I know some 'jazzers' have a hard time performing pop music, but after what I've been through, just making music at all is perfectly fabulous!   
       I bought a car, a cute fuel efficient sports car, a 2009 black Chevy Cobalt with a hot pin stripe. With the purchase of my vehicle, came a small plastic wallet sized rectangle firmly recognizing me as a member of the 'Establishment.' And I don't understand why, but on that same day, my Anarchist Eco-Revolutionary card spontaneously combusted and its flames burned a tiny almost unnoticeable hole in my self-identity.   By the way, did I mention how adorable I feel, wearing a denim mini skirt and low cut black tank top?  My hair is up, but not in a bun.  (I think parts of it may be touching my collar!)  
      While getting my nails done on Friday (fire engine red 'cause I don't have to go back to work until Thursday) I was reading Cosmo, and there was an article about the military gals in Iraq and Afghanistan.  'Dear Cosmo' It started 'We have forgotten how to do our hair and makeup.  We're coming home, can you help us?'  These faithful Cosmo readers who continued to read about Fall Fashions and the latest hair do's while being ambushed in the Middle East managed to capture the attention of the Editor who wrote 'These girls deserve a lot more, a make-over was the least we could do.  It was cool, having my first manicure back after Basic, reading about my sisters getting their hair and wardrobe done up by Cosmo staff after sticking it out for 18 months wearing ACU's in the Middle East.   
        What else can I tell you about it?  I forgot to pivot when I went out on stage to lead the privates in the 48th Infantry Regimental Song at Graduation.  One of my goals was to become less of an air head, but I don't think I accomplished it.  All I had to do was walk out, do a right face, and walk off.  But I messed it up.  I was the only one doing it, so nobody noticed I'm sure, and they said I looked good, but I know I forgot.   
      It would be sad to think I went through that and didn't change or grow, but maybe I didn't?  Hopefully I'll remember my parting lesson…everything that sucks eventually ends. And hopefully that recognition will help me to persevere in difficult times.  Hopefully going through all that will make me a better girl in general, more respectful, more willing to put up with the BS of living.  One thing I gained was an appreciation for the smallest most mundane joys.  A cook-out, an ice tea sipped in a pretty dress, the blissful state of taking loved ones for granted because they're always there, driving in my car to wherever I want, being able to read a poem, looking stuff up on the internet, beer, the freedom to burn my candle at both ends, owning plants, listening to music, hurling my body into the ocean,  eating or not, whenever I want, however much I want, the responsibility of making my life meaningful.  The burden of making sure I'm making the most of these moments of freedom.   Not taking things for granted.   
       It's late afternoon as I look through these windows, watching the shadow grow longer, eating up more of the sunny beach sand.  Children play with a ball, sunbathers pack it in for the day.  The shadow eats the sand.  More every moment.  
      So we must love while these moments are still called today 
      Take part in the pain of this passion play 
      Stretching our youth as we must, until we are ashes to dust 
      Until time makes history of us. 
                                -Indigo Girls from "History of Us"  
All too soon we will shuffle off this Mortal Coil.  Will you have regrets?  By then it will be too late.  Live, my friends, live and laugh.  Heartily. Hold nothing back, and do Whatever.  Seek your pleasure.  Turn around, arms outstretched, close your eyes and fall faithfully backwards into the surf of Chance.  Do it now.  
Promise me.  
  It's a matter of Life and Death. 
xo 
Alexis