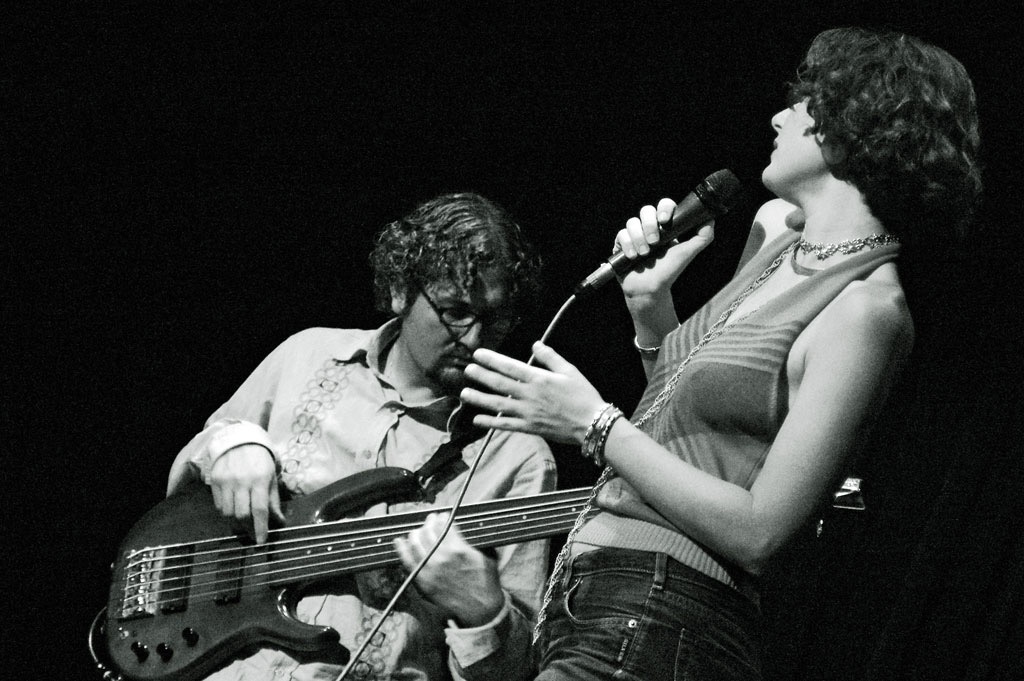 From my time as professora at Universidad de San Francisco, Quito, Ecuador
April 14, 2006 Alexis in the Amazon OR The Immortality of a Crab 
I realize it's been a long time since you've heard from me, and for some it's a little early for another installment in my 'What I did for my summer vacation' story.  But as some of you know, I've been living in Quito, Ecuador for the last 3 months and I guess you're all very eager to hear how it's going!   
           The truth is I haven't written yet because, much like life anywhere, it's been a little too mundane for a story that can equal my usual adventures from the road.  Although peppered with nights of fiery salsa dancing accompanied by illicit kisses by gorgeous men who don't speak English, daily life in Quito is pretty much your average daily life.   
           The University where I'm working is really pretty, and my apartment is just across the street.  It's a nice big apartment which came furnished, paid for by the University (thank you!) And my students are mostly sweet and talented.  And the gigs are going pretty well, I've booked a bunch of concerts in Quito and even in some other cities around Ecuador.  There's a great bass player here from the states who has really made gigging here a pleasure. 
We're both teaching at the Berklee South program at the University of San Francisco in Cumbaya, a rich suburb of Quito.   
           I'm studying Spanish and I finally found a great (and cute) tutor with whom I meet about three times a week.  I've learned a lot, though perhaps not as much as I thought I would have by now.  But I've definitely gotten leagues better.  And although I've been away from NYC, I've still been hearing tons of live music here, and have had more time to listen to music and practice and work on new repertoire, so in that respect it's been really great for my music.  Also being taken seriously is really great!  Here, because I'm from NYC and a teacher at the University, I'm enjoying a status that independent artists just don't have in the city.  We have to constantly remind ourselves who we are, when people ask, "Yes you sing, but what do you do for a LiViNg!"   
      But anyway, enough about the boring parts of my mundane life surrounded by guapisimo latinos, let's talk about something Interesting! 
       It's Semana Santa, and I just walked in the door from El Oriente, 'the East' to Tiputini, the University's research station in the Amazon.  It's off the Tiputini River.  A long way from anywhere.  
          To get there I left my apartment on Monday at 7am, took an 8:30 flight to Coca, then caught a boat for 2 hours down the Napo river, transferred to a truck which rode about 2 hours, and then another 2 hour boat ride down the Tiputini.  On the way there, the truck's trailer broke from badly distributed weight,  and we were all very impressed when Juan Carlo took his machete into the woods, came back with a pole which he affixed with rope to the chassis and we were on our way again.  We arrived at about 10 minutes to 7.  Just in time for dinner.  
The first people I met there were two primatologists from NYU and one from Calgary who have been at the station for many months and have many more to go.  One of the guy's projects is testing the idea of 'traditions' in one species of monkeys.  Some 'families' of these monkeys have a 'tradition' of using a leaf to hold some spiky nut while they work on getting the meat out, and others just don't use the leaf, so the project is to discover how information is learned and passed between monkeys. His experiment involves nalgalene bottles and eggs.  He puts the eggs inside the bottles and is noting how long it takes the monkeys to open them, and then once they've seen other monkeys do it, if the time it takes statistically improves.  One of the others, the woman from Calgary had a dream that her monkeys were trying to communicate with her by spelling the name of their group "K" using their feeding trees which she tracks.  She really loves her monkeys, and they come very close to her.  It was fascinating entering this different world for a few days.  There was also a student group from Boston University who are studying at my University, and they were all doing very interesting projects as well, and proved to be great company too.  
       The local people in that part of the Amazon are called Huaorani ( Wuh ra ni).  There are about 2,000 of them.  They're a warrior tribe, and are finding acculturation difficult.  One of the workers at Tiputini was kidnapped by them about 8 years ago, and only narrowly escaped.  They downed trees in front of and behind his truck and brought him back to their camp.  Then they were having a meeting and he radioed for help to someone he knew who works for the oil company which has been in the National Park there for about 16 years.  The man came, he was someone the Huaorani knew, and he discussed it with them.  When he went back to the worker he said, 'They've decided to kill you, they're just deciding how." His only option was to run for it and try to drive over the trees.  Luckily he made it.   
           Because of such a limited population, their options for mates are very limited, so often both men and women have multiple spouses.  Brothers or sisters often end up married to one person making some interesting group marriages.  Recently one brother strangled his other brother to death.  Maybe the arrangement wasn't working for him?   
           Another interesting fact is that the Huaorani language is closest to a dialect of Mongolian, and other Amazonian languages also have close linguistic links to oriental languages.  The people actually do appear very oriental and we know that these people's ancestors actually came over the Siberian peninsula so many years ago!  Also, the older people we saw walked a little funny and had spread feet.  This trait is getting lost as people get more 'civilized' but it actually is to help climbing trees.  One old man we saw had long loops in his earlobes from a lifetime of stretching with golden ear spools.       
     The wildlife there was awesome, and although I don't really have the patience needed to be a successful birdwatcher, I did manage to see a few really exciting things.  One night I went with the TA of the Boston group on a bug walk.  I saw a stick bug, and a spider that had an elongated body to look like something else.  Another time, during a day hike on the topic of medicinal plants with Meyer, a mestizo who works at the site,  I found a praying mantis!  By the end of the time, I was getting much better at spotting things on the trail.  The last night we went for a night float with Meyer and incredibly he spotted a week old Caymen, a relative of the alligator.  We actually got close enough to the shore that he caught the thing and we got to look at it up close!  It was amazing!       
     Another morning, I went with a few others at 5am on a hike towards the observation tower.  We arrived just at sunrise.  There we saw a toucan and an owl in the telescope, and a few other birds and monkeys.  There was also a walkway up in the trees made of suspension bridges from one treetop to another.  You had to wear a harness to walk on them, it was just thrilling.  At one place there was a ladder attached to a tree and a small platform on top.  Although ascending a flimsy aluminum ladder 12 stories in the air was a little scary, it got you right to the view totally above the trees, and you could see it all around you. "Broccoli, broccoli, broccoli" as Kelly the program director has been heard to say.   
     What else…?  The food was really great for a research station, I got in a great game of scrabble with one of the NYU guys, had a night of playing music in the library with a girl from Singapore in the BU program, and today, spent the day jamming out with my iPod (whose battery did actually last almost 8 hours as claimed) as we took boat and bus and boat and bus and plane and taxi and bus back to my humble casa.   
           During all this trip, I spent a good deal of time sleeping, reading, walking and of course mucho tiempo pensando de la imortalidad del congrejo, Pondering the immortality of the crab.  A great Ecuadorian saying we've always needed, so much more interesting than boring old 'daydreaming.'      
     I turned the water heater on when I got home, hope the water has gotten hot while I wrote this. After all that time in the jungle I am one filthy girl!   
      Much love, 
      Alexis 
April 16, 2006 - Easter  Semana Santa Story 
I wanted to write about this week before I forgot how freaking funny and fabulous everything was.  Palm Sunday I went to my local Catholic church and walked with them in procession around the neighborhood.  The things the people made out of palms were incredible.  Huge bouquets of rosemary wrapped in palm weavings, intrinsically designed crosses of woven palms. The priest walked the procession carrying a $15 tape deck playing ridiculous music which was broadcast thru a portable speaker and a loudspeaker carried by men standing close to him at all times!  The walk was nice, and we were a really big group, but when we got back to the church, it was so packed some people literally couldn't even get in!  The service was pretty long, but I understood most of it, and it was very different and delicious smelling from all the Rosemary. 
Last night I took the bus into Quito to the Centro Historico and as I was late, I went into the first church I got to which was a convent church.  It was extremely disorganized, walk to the back, now walk to the front, light your candles from the person next to you, light it from the main candle, lights off, lights on, sit stand kneel...then after all that chaos it just got Really Boring.  After about an hour (they were still on Old Testament readings...I think it was going to be awhile) I left and went to eat Fanesca, the traditional fish soup they make in Ecuador only during Semana Santa.  It was delicious and a good friend came with me which made it really chevrey (cool in Ecuadorian) I stayed up all night talking to friends on the internet, and at 5am got in the shower, dressed and took the bus into Quito to watch the sunrise from the hill of Panecillo where the statue of the Virgin watches over the city.  
I got there in plenty of time to see the sunrise, and what an amazing sunrise it was!   
A man arrived who takes pictures of the sunrise every day to track its movement.  He schooled me in the indigenous Sun Worship holidays and the ways of the sun's movement on the horizon, and throughout the days.   
After the sunrise I walked from the heights down to the old town and went to the Cathedral of St. Francis for mass for awhile.  It was super crowded, and when people started rushing to the front to get in line for communion I had to split.  I went then to a really nice church I had passed by the night before, and seen an energetic young priest presiding in.  The service was infinitely better, and I even got a seat (my first at a mass in Ecuador!) This priest was really into everyone being very authentic and really meaning the things they say.  Even though the musician stepped right off the Lawrence Welk Show, the service was still touching and meaningful.   
All the families had to hold hands at one point and I got struck with a terrible homesickness that extended from missing family to friends to familiar things and places, even to my language.  I cried and I'm sure everyone around me thought I was a terrible repentant sinner crying for mercy, and I wish I could have focused more on the Pascal Mystery than my own stupid feelings of loneliness, but what comes comes.   
Oh, there were so many things that made me laugh at these services, but my favorite one was at the crowded masses how people about a foot and a half shorter than me kept pushing me out of their way.  It was like being in a room full of hobbits.  Many people in Ecuador really are quite short, and maybe you get used to being pushy when you can't see all the time?  Who knows...the more it happened the more I laughed.  My other
favorite thing is the omnipresence of this plastic or ceramic Jovial Jesus, he's almost dancing but there's blood coming out of his sides and his golden crown makes him look a little like an alien.  He's in every church, always smiling and bloody and bearded with brown paint.  Really awful, just what you'd expect in a way though.  It must be deeply part of the culture because he's in Every Church!   
Hope everyone had a great Easter/ Passover/ Mawlid al-Nabi etc. 
Peace, 
Alexis 
May 16, 2006  Banyos to Puyoooooooooooooo 
Hi Friends, 
  I've been doing some swell weekend trips.  Last weekend I took a late night bus, after my Friday night gig at the Cactus cafe, over to Banos (my computer doesn't have the nyay, so it' pronounced like banyos, and means baths) We got the last two seats on the bus which was leaving as soon as we got there!  They were playing some incredibly violent movie on the bus and had some trebly salsa music blaring.  I put my headphones in and amazingly it all disappeared.  I've never been more grateful for the iPod!  I listened to Led Zepplin and Soul Coughing and Radiohead, they just seemed loud enough to tune it all out, and have that surreal quality that makes bus travel from mundane to interesting. 
   We got to Banos around midnight, it was raining.  I was with my friend Karin from Germany.  We met here in Cumbaya, my town of residence.  We were both renting bikes on a Sunday morning to go for a ride on the amazing 17k bike path up thru the mountains which starts here in town.  It's on an old train line and has some really spectacular views.  It's a little difficult, a good workout, but not impossibly so. We were both alone and I asked if she wanted to go together.  She's here teaching for 3 months teaching elementary math and sports at the German school nearby.  She's about my age and also a great independent girl!  After that last bike trip we agreed to try and go to Banos together to go on this 60k bike trip from that town to the next one over, Puyo.   
  Our hotel was cheap and nice and in the morning we had a nice relaxing breakfast on the terrace of the hotel which had a great view of the mountains and waterfalls.  The bike rental was just next to the hotel and they were only $5!  She briefed us on the different sights to see, and gave us helmets and spare tire/tools/ pump for the road.  When we were getting ready to leave, another white chick was also getting her bike.  The lady from the rental asked if she was alone, and when she said yes suggested to the three of us that we all go together.  We had a slow start, stopping to put on sunscreen (I was the darkest of the three of us!) and smoke a cigarette, (not me, them) and putting on sunglasses and losing the sweater that was keeping off the morning chill.   
  As we went on we stopped at many nice waterfalls including one that you had to climb a little ways to get to, which had an awesome suspension bridge which you could walk on, no more than 5 people at a time, to get the best view of it.   
  Michele a beautiful chica from Rotterdam turned out to be a great addition to our little crew, lots of fun, smart, adventurous and brave (you'll see why later!) After that waterfall we stopped for snacks and talked for an hour about Ecuador and our different experiences, and about how stupid boys are...(don't worry, it's only boys in Ecuador...;) 
  After that last waterfall, there were hardly any tourists on the path, just some trucks and busses, and really great scenery.  We rode on and on into the day, stopping at a beautiful river to swim with some locals, taking side paths to other remote waterfalls, and stopping for occasional pictures.  Around 40k we started thinking about finding someplace to eat.  We were of course pretty much in the middle of nowhere when we got hungry, and Karin suggested we turn back to a restaurant we had passed a while ago.  I (who hate turning back, it's just a weird quirk) said optimistically that we could probably find something ahead, and we rode onward.  At about 45k into the trip, the landscape suddenly opened up dramatically into a huge wide river basin far below and chiseled hills on either side.  We had previously been in a sort of tight landscape, no view, just weaving through the mountains, and then boom it all opened up in front of us.  It was really awesome, (picture lion king, when the daddy lion is showing his baby all the land which is his and it seems endless and huge) Just after reaching this opening spot, which is called the Gateway to the Amazon, we came to a perfect restaurant, totally open air, with all that fab view around.  The duena came over to us where we were sitting on a bench next to the restaurant admiring the view and drinking water, and asked if we wanted to try her home made ice cream!  She brought us three ice cream popsicles which are popular in that region (I had coconut) and we ate them eagerly.  After that we ordered three Trucha (local trout) dinners, and were really impressed when they came out and were Really really great.  It was one of the best meals I've had in this country!  They had a great collection of pets and some kittens even, so we had fun playing with them and the handsome young son of the owners Pato who was a rock musician and played his demo for us, which was almost as good as the Trucha!   
  Ecstatic from the awesome meal, great view and eachother's company, we headed off to finish the ride with new enthusiasm.  It was getting dark, but Pato had thought we could probably make it to Puyo still.  We rode for awhile along the river basin and then into a small town.  Pato rode by on his scooter and I raced him with brief success (I often win when I do that in NYC!, but there weren't enough stop lights and he was soon far off.)   
   It was starting to really get kind of dark and I had a hard time seeing since I had only brought my sunglasses on the trip, and dusk is the hardest time to see.  Up ahead of us, a big van had stopped and opened its door, Michele expressed apprehension, but soon saw that it was that charming Pato who had come to rescue us from the encroaching darkness... The girls didn't stop but I did, he was telling me it was pretty unsafe to be riding on that road at night, but I said that we were really committed to finishing the ride, thanked him and asked him if he wanted to meet us afterwards for beers.  We managed to agree that he would give us and our bikes a ride back to Banos too, and I asked where to meet him and he said 'Plano Centro' I said Ok, rode off to catch up with the girls (no easy feat) and remembered our meeting spot.  
  Finally I caught them and told them what transpired.  They apologized for riding off but they had thought I was going to take the ride with him since I couldn't see (wouldn't that have just been too smart of me!) They were psyched that I'd hooked us up a ride back to Banos, and we rode along excited and contented to be together again!   
  Suddenly, the town and its streetlights disappeared and we were going downhill along the side of a mountain, and no cars were behind or in front of us, and it was for the first time...totally absolutely dark.  I was leading, the road curved, but I thought I heard one of the girls calling out to watch out for a car coming behind us, so I wanted to stay well to the side of the road, some cars were coming at us by then and I could tell I was too wide out, but by the time I computed all this information it was too late, I had rode into the gutter and flown off my bike.  Michele was right behind me and seeing me fall (she was sure I had broken my neck, the way I had fallen) she freaked out and swerved into the same gutter.  Karin was far behind enough to stop.  Miraculously I was ok and got up with only a small pain in my shoulder blade and some rug burn on my shoulders and a scrape on my neck.  Michele didn't do as well, and we soon realized that she had a big gash on her shin. After making a few jokes about amputation, we finally were able to hail a taxi truck (they're everywhere down there) put the bikes in the back, and rode to town to meet Pato and get back to Banos.  In the taxi we realized that Plano Centro just meant downtown, so that was retarded (there it is again with those dumb Ecuadorian boys!) We had him drop us off at a pharmacy where once the pharmacist really looked at Michele's leg, she told us to go to the hospital that she might need a few stitches.   
   We caught another cab, bikes and me in the back of the truck, and arrived a few minutes later at the hospital.  I volunteered to get cigarettes and beer and they went in.  Don't ask why, maybe it was from the long biking, and the conversation I'd had with Karin about her favorite ice cream, but they had it there at the tienda, so I bought two Pilsner Grandes, Marlboro lights and 3 of Karin's favorite ice cream bars.   
  They had taken her to the emergency room of this small town hospital where Karin and I ate our ice creams and watched a young doctor clean the dirt out of her wound and dress it.  It was a long painful experience, but Karin and I kept making jokes and Michele was half laughing half crying, it all had a sort of carnal carnival experience.  But in retrospect, eating the ice cream bar, while letting Michele hold and squeeze my hand from the pain just seems Really Weird...and people laying on beds with IV's...I think we were all just in shock and glad that nobody had died or really gotten injured.   
   Michele kept saying she had been sure I had broken my neck, and was amazed that I was ok.  I know I immediately flew off my bike and I remember it and having time to think, 'Ok, I'm falling, this is interesting, I wonder how I'll land?' I swear that's what I was thinking...and it was great because I did just what you're supposed to do when you fall, relax. I realized I was helpless to change the projection of my body and I just went with it.     I did a big somersault and landed on a bed of soft grasses and shrubs.   
   After Michele was all done, they hadn't needed to do any stitches thank God, and we had paid her medical costs, 50 cents...I left the girls to walk to the bus station nearby, and went to go ride around the plano centro to look for Pato.  I really wanted to take a ride around the town, there was a street fair and it was a nice celebratory atmosphere.  I rode around for about 20 minutes looking for his big van, and not encountering it, I got directions to the bus station and arrived with much glee to see my friends sitting there on the curb!  I actually felt a little lonely and sad after I was away from them for a few minutes, so even though we were going to be at the hotel together later, I felt such a big relief to see them there.   
  It turned out to be the last bus, so they were really glad I had made it too, and had been fretting about me having to stay in Puyo all night.  By the time I got to them, they had been through two Pilsner Grandes, and I went and bought more beer.  They were expensive there at the bus terminal and they only had the little ones, so I got three of those for us.   
  We got on the bus, everyone had a seat, Michele even had an extra one for her injured leg, and had a chill hour and a half ride back to Banos, on the same road we had just spent the day riding on.  They played a really funny Jackie Chan Movie 'The Medallion' which I actually enjoyed, especially since it was in Spanish!  By the time we got to Banos Michele and Karin were ready to explode they had to piss so badly from all that beer, poor girls.  I waited with the bikes while they limped/ walked to the nearest hotel.  Michele's bike had been broken, and with a few minutes to spend I actually figured out what was wrong, and was able to fix without much effort.   
  Even with the accident and all the hard work of riding, we all agreed it had been an amazing trip.  Oh, and one other great thing is that Karin taught me how to mount the bike from the side, something I've always wanted to be able to do!  She was a great teacher, I guess it must be easy to teach me a little thing like that after 3 months trying to teach 3rd graders math!   
  The next day Karin and I went to some baths in the next town which were packed with people so much so that I didn't even want to go in!  But it felt great on my shoulder and nobody was looking at me sideways for being extranjera, so it wasn't too bad.   We were supposed to meet Michele at the bus station to take the bus home all together, but when we got there, she was there too, but had decided to stay on another day.  She gave us her email address and said goodbye.  We had a long ride with a lot of traffic coming home, but were able to catch a random bus to Cumbaya directly from the road to the terminal...it was Karin's idea and I felt a little crazy standing on the side of the highway trying to look for and hail the bus to Tena, but what do you know, there it was, and it did stop for us.  We were home in 20 minutes!   
   I hung with Michele Saturday night for her birthday, her wound is healing well.  And Karin had me over for dinner on Wednesday...it's too bad I'm leaving town just when I finally made some cool friends... 
   In unrelated great news, I booked a gig at The Rex in Toronto July 11th, and watch out NYC, I'll be at Sweet Rhythm in February!  Also, I'm planning on going into the studio in June with the awesome bassist I've been working with here Jeff Eckels, and burnin' guitarist Ron Afiff.   
  Love you all! 
  Alexis 
June 27, 2006  Saquisilly 
Hi Friends!   
    I'm back!  Ecuador was great, the food, the people, the cold showers.  I got back to NYC a few days ago, and in the midst of trying to decide where to live and what to do, I picked up a 3 month contract in a lounge in Tokyo.  That made it easy! And if you want to hear something really funny, other than the fact that this gig is exactly where and when I would plan it to be if I could, yesterday in my neighborhood coffee shop I started randomly talking to some Japanese people, and one of them was the former roommate of the girl who I'm subbing the gig for.   
    So, NYC, great to see you, enjoy the hot summer, and I'll catch you back round Thanksgiving! Friday I'm recording my 3rd CD at Systems Two, Sunday morning  I'm playing at the North Square in the Village, and Sunday night,  I'm going to Toronto to see friends and play a gig at the Rex, and then camping at a festival for a week in upstate NY!  By August 4th, I'll be on yet another continent.  This is my most well traveled year yet, and for sure lots of stories and photos will be coming your way!   
Last installment from Ecuador:   
After getting back from the Galapagos, my lease was up, so I packed up my apartment (ah sweet spacious apartment) and 'moved' to a hostel in Quito for a few days, then went for a retreat at my favorite hostel in Otavalo, La Luna.  There I had a fire every night in the dormitory, and stayed up late working on Finale charts for my upcoming concerts.  There were 3 med students from Arizona staying there too, and they were really cool radical  kids.    
We went on an amazing hike together of the Mohanda Lakes, the fertility lakes which provide water to the valley, interestingly, on a map, the lakes and the road make a picture of the female reproductive system.  We hiked up a long steep road, and came back down the side of the mountain using goat trails or something.  It was like being in the Sound of Music.   
I got back to Quito and played a concert with my Ecuadorian band at Ocho y Medio, a great alternative theater.  The crowd was thin, but the concert went well, and afterwards I partied with some very fun people. Early (argh) the next morning we left for Guayaquil, Ecuador's biggest city.   
I felt very jet setty, flying to my next gig wearing my big straw hat.  They picked us up at the airport and brought us to a very sweet hotel.  I took a nap and hung in the luxurious room reading.   Then we had sound check, and some press people from the big paper in Quito came to interview me and take photos!  I got great press in Guayaquil too, and did a radio interview the following day.  
That concert was at the beautiful new theater at MAC Cine, and the sound and lights were just perfect, the crowd was so great and responsive, and someone even shouted 'We love you' at the end, and made me feel like a big rock star.   
I stayed on in Guayaquil for a few days at the house of jazz pianist Francisco Ecchevaria who has the most energetic poodle I've ever met.  He and his girlfriend were outstanding hosts, and their production company is going to set up our Ecuadorian tour for March 2007! 
After a few days relaxing and sightseeing, I took a bus to Cuenca, Ecuador's nicest colonial city.  The ride there, going from sea level up into the mountains, was amazing.  At one point I looked over and it was like a sea of clouds.  I sat up in the front with the bus driver for a better view and listened to poorly done covers of popular American music.  By the time I got to the hostel I was sick.  It just happened, on the bus (should've taken airborne?) and it was super cold in Cuenca, and I was dressed for the coast.   
I went to the infirmary to get checked out, it took forever, but only cost $3.  Just walking around that town was so awesome.  However I spent most of the time in the hostel with the duena bringing me pots of tea.  Thank God I had a good book!  I also went to a great museum and saw shrunken heads.  
But something that made me feel really bad was part of the exhibit about the different indigenous groups included the Huaroni, the group I encountered when I went to the Jungle, and it made me sad to think that in not so many years from now, they will probably exist mostly if not entirely, as just a museum exhibit, not a living people.  I met a guy from the Amazon, there in Cuenca, and he said his people, a group of about 600, have pretty much lost their pride.  They all have TV now, and they think they are not beautiful because they don't look like the people on TV, and they're all dissatisfied with their lifestyle.  It was really sad to hear that, but I think it's a totally common story.  'It's a world that forces lifelong insecurity' -Bob Marley.  And that's how they get you to buy stuff, by assuring you that you are Not good enough. 
After 4 nights in Cuenca, I took an all day bus ride back towards Quito, and stopped a few hours short in Latacunga, a nice town with some great colonial buildings and squares where I accidentally ate part of a humita with bugs in it, and stayed in the absolute diviest hotel of my visit.  The next morning I took a quick bus to Saquisili, the town with the most important weekly market in Ecuador.  Apparently some other tourists had been there before, because when I wanted to take photos and asked people nicely, they wanted me to pay them $1-5.  I hadn't encountered this anywhere else in Ecuador, or the world, except in Jaisalmar, a very touristic town in India, and it always makes me feel like not taking pictures.  'Not that there's anything wrong with that,' they need the money, and plenty of rich tourists can pay it, but I'm not really interested in taking fake photos, and people just look different when they're doing it for money.  I left by 8am and was in Quito in time to watch them win the second World Cup game around 10am.  There was massive partying on the streets and well along into the night.  
The next day I had two radio interviews (in Spanish without a translator!  You Go Girl!!!) followed by a great concert at the Casa Humbolt, to a (finally) packed house.  Unfortunately I was sick as a dog, and even had to take a song off in the middle to down a cough drop, but I managed, and thankfully my voice was not having any issues.  Then early the next morning I left.  I left Ecuador.  I don't think that I thought it was really going to happen, I was there so long, but as it happened, as I loaded my bags, I was smiling.  It was a great trip but I was glad to be coming home.   
The End.